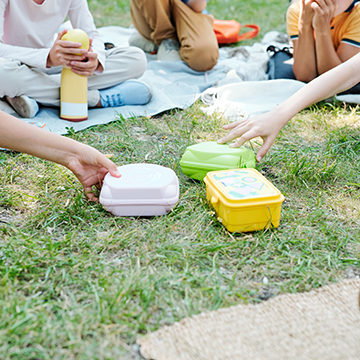 Kids are picky eaters, so it can be difficult to find meals and snacks that they enjoy. If you're struggling with finding kid-approved foods, we've got you covered! The Kangaroo Forest has compiled a list of lunch box ideas your child will love:
DIY "Lunchables"
Kids love Lunchables! Therefore, DIY lunchables are perfect and can be customized to your child. Pack a few squares of your child's favorite deli meats and cheeses with some crackers, so they can create miniature sandwiches. We recommend pairing these items with fruits and veggies for a perfectly balanced meal.
Pasta salad
Pasta salad is a great lunch box option, as it does not require reheating — and kids love pasta. Prepare some rotini or bowtie noodles and allow to cool before topping with a salad dressing of your choice. To avoid carb-induced burnout, protein noodles will give your child the boost they need to make it through the school day. Feel free to add cheese cubes, green peas, tomatoes, or whatever other toppings your child prefers.
Quesadillas
Sandwiches get old — opt for quesadillas this week! Quesadillas are perfect for the picky eaters in your life. Quesadillas are not only delicious, but a great way to sneak some veggies into your child's diet. Bell peppers, onions, or spinach make great additions to this Tex-Mex option.
Bell pepper "sandwich"
Looking for a bread-free option for your child's lunch box? A bell pepper "sandwich" is a great low-carb alternative. Cut two slices of bell pepper — these two slices will serve as the "bread" slices. Next, add a thin layer of cream cheese to each slice. Then, add your child's favorite deli meats, cheeses, and seasonings.
At The Kangaroo Forest, we understand the importance of a well-balanced diet. Without proper nutrition, your child can experience chronic fatigue, mood swings, and trouble focusing. Therefore, our rotating menus include healthy, well-balanced options for breakfast, lunch, and snacks. View our menus here: http://thekangarooforest.com/lunchmenu/index.html