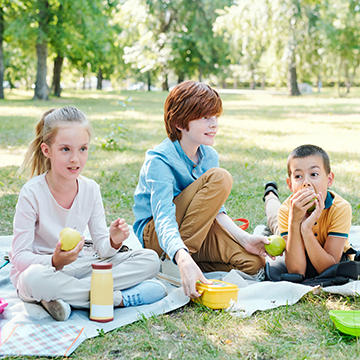 It's National Best Friends Day! Gather up your kids and some of their closest friends and have a playdate to celebrate. The Kangaroo Forest has compiled a list of fun playdate ideas:
Trip to the park
Local parks are where playdates were born! Plan a playdate at the park. Meet up with your Mommy/Daddy friends and their children for an afternoon on the playground. You'd be surprised how long the swings and slides will keep your children entertained. Pack sandwiches, snacks, and drinks and have a picnic while you're there. Don't forget to pack sunscreen if you plan to stay for awhile!
Museums
Taking the kids to an age-appropriate museum can be both fun and educational. Do a little research on your local museums and their exhibits. Whether your kids are interested in science, art, or history, there's usually something for everyone. Most cities have a children's museum that features interactive exhibits for a fun, hands-on experience. A trip to the museum is a playdate your kids will not forget!
Waterpark or pool
Summer is quickly approaching — cool off with a playdate by pool! Looking for a little more adventure? Opt for a trip to the waterpark. Your kids can spend the day with friends, ride a few rides, and enjoy some ice cream. That summer heat will have them dozing off in the car before you ever even make it home. Don't forget life jackets for the little ones!
Trampoline park
If your kids and their friends need to expend some energy, the trampoline park may be the perfect place for a playdate. Over the years, trampoline parks have become increasingly popular. With summer right around the corner, trampoline parks are the perfect place to escape that summer heat while having fun and getting some exercise.
Looking for childcare this summer? TKF provides a quality educational environment for children ages 6 weeks to 12 years, including Private Kindergarten and before and after school care.
Contact us
today!