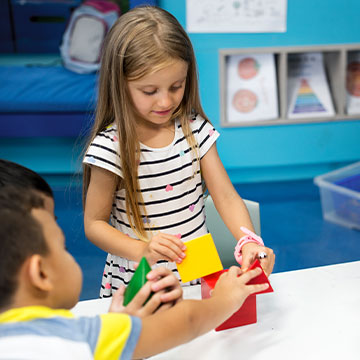 Looking to enroll your child in pre-kindergarten in The Woodlands, Texas? At The Kangaroo Forest, our pre-kindergarten program is ​​designed to lay the foundation for our students' academic futures. Learn more about our carefully organized, educationally rich pre-k program:
Objectives
At The Kangaroo Forest, our pre-kindergarten objectives are to introduce foundational concepts that will better prepare our students for kindergarten and beyond. Through extensive review and reinforcement, students will master these foundational skills and concepts using ABeka curriculum.
Our pre-kindergarten classrooms create a safe environment for students to learn and explore with confidence, as well as develop their social skills.
Schedule
Shortly after arriving at 7:30 AM, our pre-k students prepare for "circle time" where they will work on skill development, followed by a thematic unit. After a snack break, story time, and recess, students will dive into phonics activities that are foundational for the development of their reading and writing skills. Next, students will practice their handwriting and work on number recognition activities.
After the students have had lunch and a nap, we kick off the afternoon with language development. Next, students are given a break to express their creativity and have a little fun with 30 minutes of arts and centers. After a brief afternoon circle time, students wrap up the day with recess, snacks, and an activity of the teacher's choice (such as centers, extended recess, etc). By 5:30 PM, students are ready to head out for the day!
We believe our students should work hard and play hard, which is why Creative Curriculum is so important to us at TKF! Included in our students' weekly programs are a wide range of fun, specialized classes that focus on fitness and nutrition, music, science, Spanish, computer literacy, and more.
Does The Kangaroo Forest sound like a good fit for your child? Still have questions about our pre-k curriculum? Schedule a tour of our facilities today! Our childcare professionals would be happy to answer any questions you may have.