Leaving your child with a stranger can be scary! Therefore, vetting childcare centers is an important and necessary process, as you decide what's best for you and your family. Here are 3 reasons to choose The Kangaroo Forest:
Individualized attention
Every child is unique, and therefore, has unique needs. At The Kangaroo Forest, we have small class sizes so each student receives the individualized attention they need in order to succeed. Our low student-to-teacher ratio allows our staff to provide a quality education and accommodate each student. At The Kangaroo Forest, all of our students are recognized as key members in our classrooms. There is no child left behind!
Academic excellence
At The Kangaroo Forest, our programs are designed to encourage a love for learning! Public school programs often focus on standardized testing. The Kangaroo Forest utilizes the best private academic curriculum that aligns with ABeka and the Texas Education Agency's standards in an effort to prepare our students for higher education and life-long learning.
Whole-child program
At The Kangaroo Forest, our programs are educationally rich — but academics are not our only focus! We want our students to grow in all areas of life, including social-emotional development, character development, individual interests, extra-curricular, and more. Our curriculum not only lays the foundation for academic success, but creates well-rounded, multi-faceted students.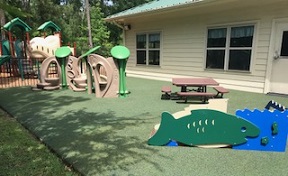 Thinking of changing preschools? Wondering which school is best for your child?
The Kangaroo Forest provides a quality educational environment for children ages 6 weeks to 12 years. Learn more about our programs or
contact us to schedule a tour of our facilities
today.