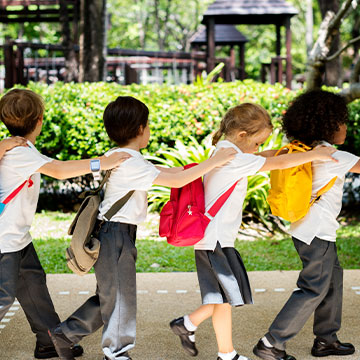 Entering kindergarten is an exciting time for young children. This is a time for exploration and growth. As a kindergartener, your child will learn to complete assignments, accept more responsibility and follow rules closely. To help prepare your child for their first day of school, make sure you support their mental and educational growth at home.
Reading and Writing
Reading to your child is proven to help excel their reading and writing skills. By reading in an interactive way with your child, they can begin to identify some letters and sound out words. Your child should also be able to recognize rhyming words. Finally, children beginning school should be able to write their own name using uppercase and lowercase numbers. But, if your child can't complete one of these skills, don't be discouraged. As educators in an early learning center, we are well-equipped to help your child develop strong reading and writing strategies.
Classification
Prior to starting kindergarten, children should be able to classify objects according to size, shape, color and quantity. You can strengthen your child's classification skills with a variety of methods. A simple way to do this is by always asking your child questions. For example, a trip to the grocery store can turn into an educational experience. Ask your child to identify items in the grocery store and classify them based on category. Students will continue building upon these skills while enrolled in our kindergarten class.
Memorization
On the first day, your child can impress their teacher by reciting information from memorization. Children need to be able to repeat their full name, address, phone number and birthday. They should also be know their parent's name. This is a great way to begin teaching your child memorization skills, but it also helps them if they were ever lost or found themselves in an emergency situation.
Communication
Your child should be able to communicate with adults and other children easily. Children entering school should be able to speak in full sentences and follow directions. Additionally, they should be able to play independently or focus on an activity with a friend for up to 10 minutes. If this is your child's first time in a group environment, let the teacher know so they can help your child transition smoothly.
Miscellaneous Skills Your Child Should Know
Other skills your child should know include bouncing a ball, managing bathroom needs and cleaning up after one's self. However, do not panic if your child hasn't mastered a certain skill or seems to be behind from other students. Kindergarten is the opportunity for kids to learn quickly among their peers and become more independent. To learn more about how our Kangaroo Forest staff encourage a love for education among students, read our
article
on embracing different learning styles.