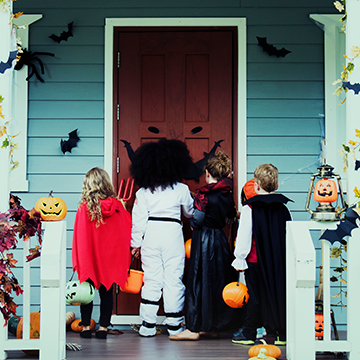 Halloween is just days away! Looking for alternatives to trick-or-treating? Switch things up this year with one of these fun ideas:
A costume party
With Halloween being on a Monday this year and the safety risks of trick-or-treating door-to-door, having a Halloween costume party over the weekend is a fun alternative to tradition. Invite your children's friends and their parents for a night of spooky games, and of course, candy! Encourage everyone to dress up, and offer special goodie bags/prizes to those with the best costumes.
A bonfire
Just because you choose not to trick-or-treat doesn't mean you can't enjoy a night under the stars? If you have property, a great alternative to trick-or-treating would be a spooky bonfire. Gather round the fire, make smores, and share your best ghost stories. It might be a little chilly, so don't forget to bring blankets. If you have a projector, you could even stream your favorite scary movies right from your backyard.
A haunted house
Have a family full of adrenaline junkies? A "haunted house" may be the perfect trick-or-treating alternative! Every year around Halloween, your local "haunted houses" are open for business. In these interactive "haunted houses", paid actors don their most frightening costumes and stage makeup in their efforts to scare guests. From chainsaw wielding clowns to demonic creatures and more, you're in for a fright!
Happy Halloween from The Kangaroo Forest! Looking for childcare this school year? The Kangaroo Forest provides a quality educational environment for children ages 6 weeks to 12 years, including Private Kindergarten and before and after school care. Learn more about our programs and schedule a tour of our facilities today!