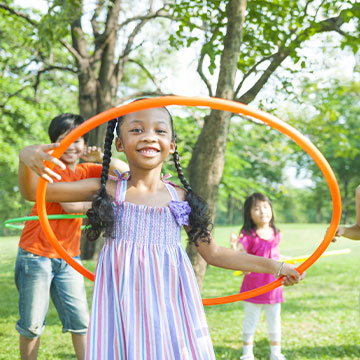 The habits children learn at a young age will carry with them throughout life. Knowing this, it is crucial to teach children about living an active and healthy lifestyle. Children who partake in physical activity often are more likely to turn into healthy, active adults.
Why Children Need to Be Active
During early childhood, children are more impressionable. This means you can show them new activities and encourage a healthy lifestyle. Physical activity, learned at a young age, offers many benefits. For example, it promotes healthy growth and development. Being active builds a healthier body composition, stronger bones and muscles, improves cardiovascular fitness and develops motor skills.
Effects of Little Activity
Lack of physical activity can cause health issues including excess body fat, weight gain, high blood pressure, bad cholesterol, cardiovascular disease and bone health problems later in life. Research shows active children experience less sickness and fewer chronic health problems. When children spend more time doing seated activities, including watching television or playing video games, they are more likely to build bad habits that will keep them from making healthy choices later in life.
How the Kangaroo Forest Encourages Physical Activity
The Kangaroo Forest understands the importance of building habits for a healthy lifestyle during the stages of early childhood. Our students regularly go to recess where they can move freely and expend energy. Students also attend a class called Stretch-n-Grow once a week. During the class, instructors introduce students to exercise in healthy ways.
Before choosing an early childhood facility for your child to attend, make sure you choose one that encourages physical activity among its students. Want to learn more about the Kangaroo Forest?
Schedule a tour
today.