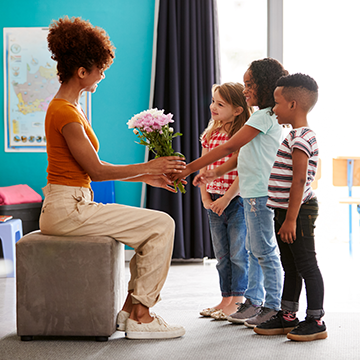 With the COVID-19 pandemic and social distancing, this was an unprecedented school year that posed many challenges for teachers everywhere. As we conclude the 2020-2021 school year, it's time to celebrate our teachers and their efforts! Here are a few ways you can show your appreciation:
Write a letter or "thank you" note
You can never go wrong with a basic letter or "thank you" note. Help your child draft a letter detailing their favorite memories or lessons from the school year. Have your child express the things they love and appreciate about their teacher. Feel free to express your gratitude for all the ways your child's teacher has played a role in your child's growth and academic success.
Coordinate with other parents to buy a gift or create a gift basket
Have a pricier gift idea in mind? Coordinate with other parents and split the cost! Gift baskets are great when coordinating with others, as everyone can contribute something to the basket. Create a list of items your child's teacher loves and assign everyone an item to purchase. These items can include snacks, gift cards, self-care products, and more.
Send baked goods
Who doesn't love sweets? A great way to show appreciation for your child's teacher is with some homemade treats, like cookies or brownies. Have your child help bake their teacher's favorite snack and package it in a cute goodie bag. Your child's teacher will love this gesture — and will beg for the recipe!
Fill out teacher evaluation forms
At the end of every school year, some districts ask students and parents to fill out teacher evaluation forms. Parent-student feedback not only helps teachers make necessary changes, but positive feedback can earn teachers pay raises and promotions.
At The Kangaroo Forest, we are grateful for all that our teachers do. Our teachers strive to create an organized, educationally enriched environment for our students that supports their learning and development. Interested in learning more about our programs?
Contact us
today!