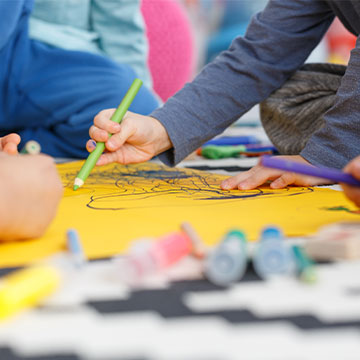 Childcare professionals are so much more than "just babysitters." Daycare provides an educational environment that supports your child's overall growth and development. Here are a few benefits of attending daycare:
Socialization and communication
For the first few years of a child's life, their social interactions are limited to family. Daycare provides children the opportunity to socialize with other children from various genders, races, ethnicities, and socio-economic backgrounds. With exposure to new people and experiences, children learn to love and respect others despite their differences. Furthermore, with exposure to a variety of social experiences, children in daycare learn to communicate more effectively. Socialization also improves behavioral issues, as students learn how to work and interact with others.
Routines
Children need consistency! Daycare programs typically follow strict daily schedules and routines. From nap times and meals to play time and learning activities, every detail of a child's day is planned down to the hour — and these details remain the same from day-to-day. This structure provides students with clear expectations and shapes their behavior.
Independence
For the first few years of a child's life, they rely heavily on their parents or guardians. Attending daycare is a huge adjustment for most children, and separation anxiety is common. Once a child begins attending daycare on a regular basis, they adjust to not having their parents around at all times. With time, they learn to rely on themselves (and their teachers) more. Additionally, many daycare programs organize games and activities that encourage students to work and solve problems independently.
Academic growth
Daycare teachers design curriculum with your child's academic growth in mind. Children are more likely to retain information if they're having fun, so daycare teachers are always incorporating educational material into games and activities your child will love. Daycare is truly just a stepping stone toward grade school, so daycare teachers design curriculum that supports your child in developing basic skills needed to progress to kindergarten.
Kindergarten preparation
With strict schedules, socialization, and integrated learning, daycare is great preparation for children entering kindergarten. Daycare and kindergarten share a very similar structure, so students know exactly what to expect once they start school. Childcare professionals design curriculum that allows students to develop all the skills they'll need for kindergarten — and more!
Looking to enroll your child in a childcare program? The Kangaroo Forest provides a quality educational environment for children ages 6 weeks to 12 years, including Private Kindergarten and before and after school care. Interested in learning more?
Click here
.