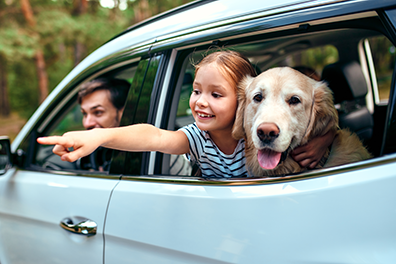 Thursday, April 28 is National Kids and Pets Day! Who wouldn't want a fur baby of their own? Pets are our life-long friends! Aside from companionship, there are actually many benefits of having a family pet. Here are a few:
Teaches Responsibility
Owning a pet isn't all fun and games — it's actually a huge responsibility! Having a family pet can be a great learning experience for families with children. If you get your children a pet, require that they take care of the pet themselves. Have your children clean up after the animal, bathe it, feed it, etc.
With this foundational learning experience, your children will practice good habits in other areas of their lives as well — completing their homework on time, finishing their chores before they go to a friend's house, etc.
More Outdoor Exposure
Are your kids attached to their phones and tablets? Getting a family pet is a sure way to get them outdoors and exercising. Dogs can't stay cooped up in the house all day, as they require a lot of physical activity.
If your children are responsible for the family pet, they will need to take it outside to walk, play, and use the bathroom. Taking the dog around the block several times a day or playing fetch in the backyard is not only great for the dog, but will allow for more outdoor exposure for the kids. Outdoor exposure and physical activity are linked to improved mental, emotional, and physical health.
Therapeutic Benefits
Whether you own a cat, dog, bunny, or hamster, a family pet offers many therapeutic benefits. These cuddly and cute fur babies offer not only companionship but love, emotional comfort, and security.
Anyone can experience the therapeutic benefits of a pet, but especially those learning to cope with trauma or emotional stressors.
Looking for childcare in The Woodlands, Texas? TKF provides a quality educational environment for children ages 6 weeks to 12 years, including Private Kindergarten and before and after school care. Contact us today!