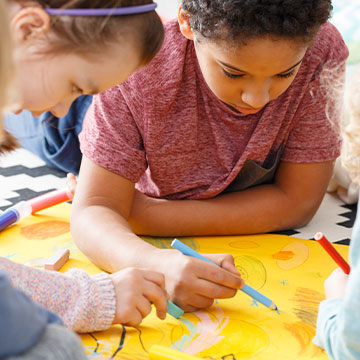 There comes a time when parents must decide if they will enroll their child in daycare. This decision affects a family financially and emotionally. Enrolling your son or daughter in childcare comes with many benefits that will develop and prepare them for the future.
Socialization
Enrollment in childcare exposes a child to new social situations. Kids should spend time with others who are the same age. This teaches them how to appropriately act with one another. For example, children learn to share, make friends and communicate with others. The skills they learn at daycare are crucial and will help them as the grow older.
Health
Children who were in daycare are typically less likely to get sick when they enter elementary school. If toddlers are exposed to different strains of cold and flu, their immune systems will grow stronger. Building immunity to illnesses will keep them in the classroom and out of the doctor's office.
Early Education
In daycare, children learn constantly. They pick up on the behavior of their peers and learn how to interact with adults. Most childcare providers offer educational programming, including toys and activities to promote growth and development. It is important all children are exposed to age-appropriate learning. Enrolling your child in daycare allows instructors to closely monitor their growth and update you on your child's progress.
The Kangaroo Forest Early Childhood Center seeks to create positive learning opportunities for students in a caring and nurturing environment. As a Texas Rising 4-Star Childcare Center, we offer a quality educational environment for children ages 6 weeks to 12 years, include private kindergarten and before and after school care. Contact us to learn more about how we can aid your child as they grow.