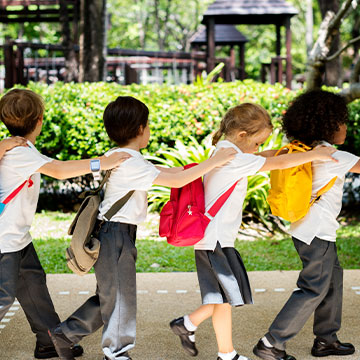 Looking for childcare for the Spring semester? The Kangaroo Forest provides a quality educational environment for children ages 6 weeks to 12 years, including Private Kindergarten and before and after school care. Here are a few reasons The Kangaroo Forest might be a good fit for your child:
Low teacher-to-child ratios
At The Kangaroo Forest, no students are left behind! We strive to provide each student with the individualized attention they need and deserve. Therefore, we keep our teacher-to-child ratios low! Ratios vary depending on the age group:
6 weeks to 6 months: 1 teacher to 3 infants
6 months to 12 months: 1 teacher to 4 infants
12 - 18 months: 1 teacher to 5 toddlers
18 - 24 months: 1 teacher to 7 toddlers
2 years: 1 teacher to 8 toddlers
3 years: 1 teacher to 10 children
4 years: 1 teacher to 10 children
5 years: 1 teacher to 10 children
Afterschool: 1 teacher to 12 children
Top-rated private academic curriculum
Early childhood programs are the most formative years in a child's life. They are reaching new developmental milestones every day! Therefore, the childcare professionals at The Kangaroo Forest utilize only the best private academic curriculum that supports students' development and allows them to hone their skills.
At The Kangaroo Forest, we use ABeka curriculum to teach, implement, and reinforce new skills for mastery and retention. ABeka is not only aligned with Texas Education Agency standards but effectively transitions students into higher education.
Whole-child approach
At The Kangaroo Forest, extracurricular activities are just as important as academics. Our programs are all-encompassing, focusing on social-emotional development, character development, academics, interests, and skills.
In addition to completing ABeka lessons and workbooks, students also have the opportunity to socialize with children their own age and build new skills through fitness and nutrition, music, science, Spanish, and computer education classes.
Looking for childcare in The Woodlands, Texas? Interested in learning more? Visit our
programs page
or
contact us
today!