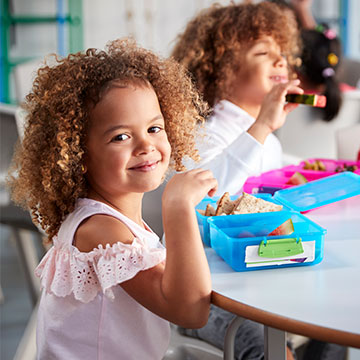 Curriculum often determines if a parent will enroll a child in a particular daycare facility. However, there are other factors that must be taken into consideration before signing a contract. Childcare nutrition should be a deciding factor as parents think about signing their children up for daycare.
Balanced Meals
At the Kangaroo Forest, our childcare nutrition policy encourages balanced meals. We offer our students a different meal each day of the week to ensure they do not get burnt out on a certain food. Students receive a fruit or vegetable, protein and starch each lunch. For example, one meal might include chicken quesadillas, rice, beans and fruit. We serve milk with each lunch, making sure your child's meal is healthy. For a look at our this month's menu, check out our calendar.
Meals Catered to Your Child's Needs
We understand that children might have special needs or allergy restrictions that might affect their diet. If a parent alerts us of their child's dietary requirements, we can work with them to create a personalized menu to fit the child's needs. For more information on how we can help you ensure your child's dietary needs are fulfilled, contact us.
A Holistic Approach to Childcare
As a premiere childcare facility in The Woodlands, Texas, we strive to encourage growth among our children. To do so, we take a holistic approach in our daycare practices. This includes choosing the best curriculum, creating well-balanced lunch menus and maintaining small class sizes so your child regularly receives one-on-one interactions with their teacher.
The Kangaroo Forest offers early childcare programs to children six weeks of age to 12 years old. For more information on how we can help your child giggle, grow and dream, visit
our website
.