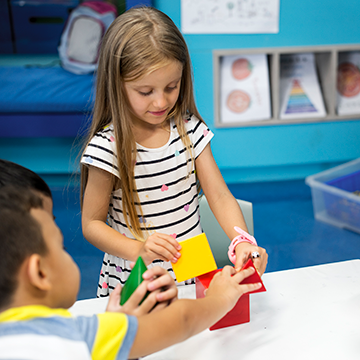 The idea of leaving your child in someone else's care is scary and unnerving. Allow us to put you at ease! In our latest article, we debunk 4 common misconceptions about daycare:
Myth 1: There is no educational benefit to daycare.
Most daycare programs offer a variety of educational benefits for students, especially early childhood programs. Even preschool students follow age appropriate curriculum that teaches basic life skills and supports cognitive development.
Myth 2: Daycare meals are unhealthy.
Most daycare programs serve well-balanced breakfast and lunch meals on a rotating schedule. Childcare professionals responsible for prepping meals select items that will support your child's overall health; a healthy, well-balanced diet will allow your child to better participate in classroom activities.
Myth 3: Daycare lacks structure.
This is the furthest thing from the truth! Childcare professionals recognize the importance of structure in a child's day-to-day life. Therefore, most programs follow a strict schedule down to the hour. From meals and naps to recess and learning activities, students know what to expect when they arrive every day.
Myth 4: I can't trust strangers to watch my children.
The thought of leaving your child with a stranger may be scary, but rest assured — your child is in great hands! In most states, daycares require all employees to earn an early childhood education and care certification. They must also be first aid and CPR certified and have no criminal background.
These childcare professionals won't be strangers for long. With time, they build trusting relationships with your child.
At The Kangaroo Forest, our childcare professionals provide not only a safe, educational environment for our students but resources to support their ongoing growth and development. To learn more about our programs or to view our January menu, click here.