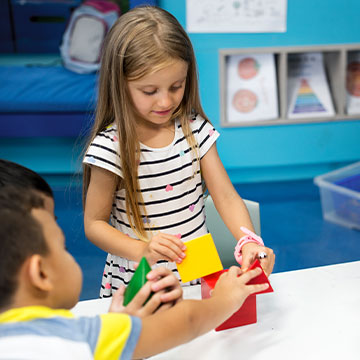 For those seeking childcare in The Woodlands, Texas, there are many daycare programs to choose from. Located conveniently near Woodlands Parkway and Kuykendahl, the Kangaroo Forest offers educational childcare for parents looking for a convenient daycare on their daily commute.
Personal Attention
The Kangaroo Forest operates with small class sizes to ensure each child gets individualized attention. Our low student to teacher ratios provide staff the ability to focus on your child's needs throughout the day. Smaller classrooms allow our staff to monitor a child's progress and make changes to help them grow.
Programs for All Ages
We offer multiple programs suited to fit the age of your child. Children six weeks to five years of age enjoy full-day enrollment. The Kangaroo Forest also provides before and after-school care for students under 12 years old enrolled in nine local schools.
Educational Programming
At the Kangaroo Forest, we use the best private school curriculum to enhance your child's learning experience. Our educational programming challenges students and creates an intrinsic motivation for learning. All lessons are aligned to both ABeka and Texas Education Agency standards to prepare your child for a smooth transition into higher education.
State Accredited
Make your child's education a priority by enrolling them at the Kangaroo Forest. We are a Texas Rising 4-Star Childcare Center focused on preparing your child for school with advanced curriculum. As a top-tier childcare facility located in The Woodlands, we are constantly looking for ways to improve the daycare experience for our students.
Interested in scheduling a tour of our facilities? Contact us at (281)465-4069 or by
email
to schedule an appointment.