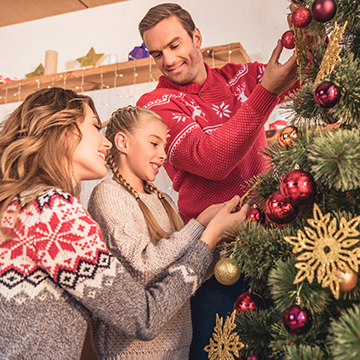 Does your child love giving gifts? Save some money this holiday season with DIY gifts. Grandparents, aunts, and uncles love homemade gifts! Here are a few easy DIY gifts kids can make:
Ornaments
Ornaments are a popular choice for homemade gifts, especially now that so many craft stores sell DIY kits. All you'll need are clear, acrylic ornament bulbs and decorations of your choice. If you wish to paint the outside, you'll need acrylic paint. You may also consider purchasing glitter, glitter glue, confetti, fake snow, etc.
Picture frames
Framed photos are a wonderful, sentimental gift! What's even better? A personalized frame! Swing by your local craft store and pick up a few blank frames to decorate. These are often found in the wood crafts section. Using wood paint, glitter, and stickers, allow your child to express their creativity by creating these one-of-a-kind picture frames.
Snow globes
Snow globes are magical! Why not make your own and gift them to those you love? This DIY project is quite simple — and lots of fun for the kiddos. For mess-free DIY snow globes, you'll need resealable mason jars, fake snow, and seasonal figurines. Using the lids of the mason jars as the bases, fill your snow globes with snow, tiny trees, houses, Santas, or reindeer.
Ceramics
Over the years, pottery painting studios have become popular. What's better than a personalized mug, plate, or vase? Swing by your local pottery studio and paint ceramics with the kids! If you have small children, a piece with their handprints and names is a gift Grandma and Grandpa will cherish for years to come!
Looking for childcare for the Spring semester? The Kangaroo Forest provides a quality educational environment for children ages 6 weeks to 12 years, including Private
Kindergarten and before and after school care. Learn more about
our programs
and
schedule a tour of our facilities
today!