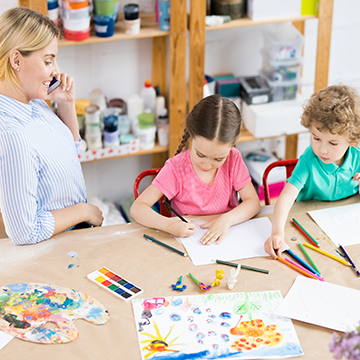 Self-expression is crucial for a preschooler's development. Implementing activities in their daily routines, such as crafts and DIY projects, will provide them with a creative outlet. DIY projects are some of the easiest, most engaging activities to enjoy with your child. The Kangaroo Forest has compiled a list of 3 craft projects you and your child will love:
Paper plate animals
If your child is an animal-lover, they are sure to love this craft. For this project, you will need paper plates, construction paper, washable markers or paint, and glue. The paper plate serves as the face of the animal. Your child may create body parts and facial features using construction paper and markers. Assembly is easy and the paper plate is sturdy enough for application of glue.
Moon sand
Moon sand will keep your child occupied for hours, and you have all the ingredients you need to make it right in your kitchen! Combine flour and oil to create this malleable, moldable material - a similar concept to Play-Doh, but much sandier and not as dense. With moon sand, your child can create the sand castle of their dreams! We recommend lining the play area with plastic wrap in order to avoid leaving any unwanted oily residue on countertops and furniture.
Liquid sidewalk chalk
It's time to take your driveway murals to the next level with liquid sidewalk chalk! Like moon sand, you already have all the ingredients you need to make this craft in your kitchen. Bottle up a mixture of cornstarch, baking soda, vinegar, water, and food coloring - it's that simple! Let your kids get creative, and don't worry about the mess - this liquid sidewalk chalk makes for an easy cleanup.
Interested in learning more about what The Kangaroo Forest can do for you and your child? Contact us today and schedule a tour of our facility!