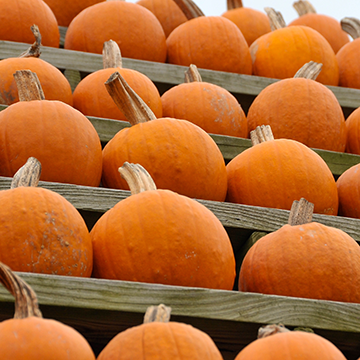 Fall has arrived! It's time for some yummy, fall-inspired treats. Enjoy the flavors of fall with these quick, easy recipes:
No-Bake Pumpkin Bites
Pumpkin is the flavor — and scent — of fall! No-bake pumpkin bites are the perfect treat for kiddos, and are an easy recipe to get them involved in the kitchen. Here's what you'll need:
Old fashioned oats
Pumpkin puree
Peanut butter
Maple syrup
Pumpkin spice
Chia seeds
Sea salt
Chocolate chips
Begin by grinding your oats in a food processor until they are almost fully ground. Next, add your pumpkin puree, peanut butter, maple syrup, pumpkin spice, chia seeds, and sea salt. Mix until a dough forms. Add your chocolate chips and pulse until evenly distributed. Using a spoon and your hands, roll bite-sized balls with the mixture and place on a cookie sheet in the fridge to harden. For exact measurements, click here.
Caramel Apple Pie Bites
Pumpkin isn't the only flavor of Fall. When we think of Fall and Thanksgiving, apple pie comes to mind! If you're looking for an easy recipe with small portions to satisfy your kiddo's sweet tooth, these caramel apple pie bites are just the thing. You'll only need four ingredients:
Crescent roll dough
Caramel candies
Apples
Cinnamon and sugar
Begin by preheating your oven to 350 degrees and prepare a non-stick baking sheet. Unroll your dough and separate the perforated triangles. Place a single caramel and spoonful of chopped apples on to each dough triangle. Next, roll each triangle and seal the edges to secure the contents. Sprinkle cinnamon sugar seasoning on each roll and bake for 12-15 minutes. For exact measurements, click here.
Sweet Potato Brownies
Looking for a healthier alternative to classic fall desserts? Sweet potato brownies are a great option — and may be perfect for kiddos with dietary restrictions or sensitivities. Here's what you'll need for this recipe:
Sweet potatoes
Almond butter
Cocoa powder
All-purpose flour (can also use oat or gluten-free flour)
Sugar (or a sweetener of your choice)
Baking powder
Salt
Olive oil
Vanilla
Dark chocolate chips
Begin by preheating your oven to 400 degrees. Take your two sweet potatoes, slice each in half, sprinkle a little olive oil and salt on top, and bake for about 30-35 minutes. Once your sweet potatoes are done, reduce your oven temperature to 350 degrees. Grease a 9x9 pan. Remove the skin from your sweet potatoes and mash well. Once you have mashed your sweet potatoes in a bowl, add your almond butter, cocoa powder, flour, sugar, baking powder, salt, vanilla, and chocolate chips. Mix until batter is smooth and pour it into the pan. Bake for 30 minutes. For exact measurements, click here.
Looking for childcare this school year? The Kangaroo Forest provides a quality educational environment for children ages 6 weeks to 12 years, including Private Kindergarten and before and after school care. Learn more about
our progra
ms
and
schedule a tour of our facilities
today!