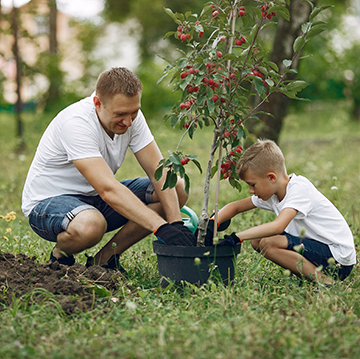 It's the season of giving! Round up the family and give back to your community this holiday season. Family service projects are a great way to serve your community and teach your children valuable lessons. Looking for volunteer opportunities that welcome child participation? Here are a few family-friendly community service projects:
Food drive/food bank
Volunteering at your local food bank is a great way to serve your community and get your family involved too! A lot of the volunteer work that takes place at food banks and food drives consists of organizing donations for shipping. With clear instructions, children can help pack lunch sacks and boxes. Food banks also need volunteers for delivering food shipments to local shelters and homes.
Picking up litter
Littering has become a major environmental issue. Our beaches and roads are covered in trash and debris! Volunteers are integral in keeping our planet clean and healthy. Do your part and volunteer the whole family for clean-up duty. Picking up litter is simple enough that the kiddos can help too. Not only are they serving their community but they're learning responsibility along the way.
Charity races
Charity races have become increasingly popular. Many communities host annual 5k races to bring awareness to special causes. If you're feeling charitable this holiday season, sign up to participate in your community's 5 or 10k race! Charity races are a great way to raise money for meaningful causes and encourage your family to be active and prioritize their health.
Looking for childcare for the Spring semester? The Kangaroo Forest provides a quality educational environment for children ages 6 weeks to 12 years, including Private Kindergarten and before and after school care. Learn more abou
t
our programs
and
schedule a tour of our facilities
today!