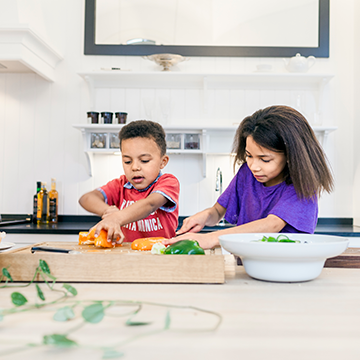 Thanksgiving dinner prep requires a lot of time and effort. That's why you should get the whole family involved, including the kids. Here are a few age-appropriate tasks to get them started:
Set the table
With dishes going in the oven and relatives piling in all afternoon, it can be easy to forget to set the table. Fortunately, this is an easy task for the kiddos to help out with! Gather up the utensils and plates and have them set the table while you add the finishing touches on the food. Don't forget to have them set out the salt and pepper shakers and butter for dinner rolls!
Prepare beverages
Another easy task for the kids to help with would be preparing beverages for guests. They can easily fill glasses with ice, set out the drink options, and even fill glasses for those eagerly awaiting dinnertime.
Wash and prepare ingredients
Thanksgiving dinner isn't just any meal — it's a feast! There are a lot of meats, side dishes, and desserts to prepare. Reduce some of your stress and have the kids help prepare some of your ingredients. They can begin by washing the vegetables, mixing dry ingredients, buttering dinner rolls before baking, etc.
If your child is old enough to use knives, they can cut some ingredients for you. If knives are still a little too advanced for your children, they could try kitchen scissors for the green onion, bacon, green beans, etc.
Happy Thanksgiving from The Kangaroo Forest! We are so incredibly grateful for our students and their wonderful families. Have a safe and happy holiday weekend!
Looking for childcare for the Spring semester? The Kangaroo Forest provides a quality educational environment for children ages 6 weeks to 12 years, including Private Kindergarten and before and after school care. Learn more about our programs and schedule a tour of our facilities today!