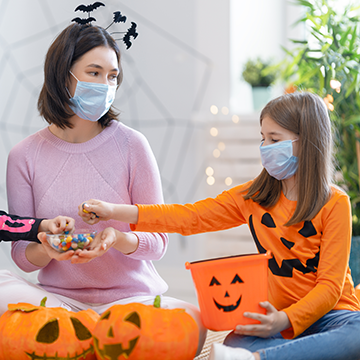 From pumpkin carving and costumes to candy and more, Halloween is one of the most exciting holidays of the year — especially for the kiddos! Keep your kids safe this Halloween with these helpful safety tips:
Swatch test makeup and paints in advance
Costume makeup and paints contain chemicals that could irritate eyes or skin. In the days leading up to Halloween, we recommend swatch testing any topical products you plan to use for your child's costume. Apply a small amount of the product on your child's forearm and observe how their skin reacts to the product. If no irritation occurs, the products should be safe to wear Halloween night. At the end of the night, wash skin thoroughly before bed.
Wear reflective gear or glow sticks
On Halloween night, trick-or-treaters are everywhere throughout residential areas. Once the sun has set, it isn't easy to see little ones crossing the street. Therefore, we recommend wearing reflective gear or carrying glow sticks so drivers can see your children easily.
Adults should accompany young children
Trick-or-treating is fun, but walking door to door unattended can be dangerous. As much as we would like to trust our neighbors, it is better to be safe than sorry. If you have younger children, we recommend accompanying them door to door. If your children are older and you trust them to go alone, we still recommend mapping out their trick-or-treating route and enforcing a curfew. If they are not home by curfew, you know the exact route to search.
Check candy first
With a bag full of candy, your children will be eager to dig right in. However, it is important that you check the candy before allowing your child to have any. Unfortunately, not everyone has your child's best interest at heart. When checking their stash, look for wrappers that appear to be tampered with or resealed. If the candy appears to have been tampered with, throw it away. You may also want to remove candy that contains common allergens (i.e. nuts in Snickers), as to avoid harmful or deadly reactions.
Happy Halloween from The Kangaroo Forest! We love our students and want to see their smiling faces bright and early Monday morning — so be safe this weekend and enjoy.