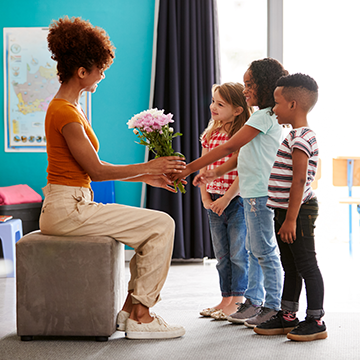 Teachers not only help their students learn basic life skills and concepts, but also do all they can to support their students' overall growth. Teachers are not just teachers — teachers are friends and confidants. However, teaching is often a thankless job. Show appreciation for your child's teachers with some of these holiday gift ideas:
Gift cards
Everyone appreciates a gift card to their favorite store! If you're unsure what to get your child's teacher for Christmas, a gift card is a great option, as they can spend the money however they wish to. With gift cards, their options are endless.
Snacks or candy
Teachers love a good snack! You can buy your child's teacher their favorite snack or candy. With the holidays right around the corner, they would even appreciate homemade holiday treats.
Fun classroom supplies
Teachers are often required to buy their own classroom supplies — and by the end of the first semester, supplies are running short. Therefore, buying your child's teacher some new, fun classroom supplies is a wonderful gesture.
Fuzzy socks or blankets
As temperatures drop, fuzzy socks or blankets are great gift options. At the end of a long school day, your child's teacher can slip into their socks, bundle up on the couch, and get comfortable.
Holiday scented hand sanitizer or lotions
With the rise of COVID-19, hand sanitizer and lotion are widely sought after. To control the spread of illness, teachers are applying hand sanitizer all day, meaning they're likely running low on supply — and drying their hands out! With the holiday season in full swing, there are a variety of scents available: pumpkin, apple, cinnamon, etc. Before purchasing scented products, you should ensure your child's teacher does not have any sensitivity to fragrances.
At The Kangaroo Forest, we are so incredibly grateful for all that our teachers do. Our childcare professionals strive to create a safe, supportive learning environment that allows our students to thrive. Interested in learning more about our programs? Schedule a tour of our facilities today!