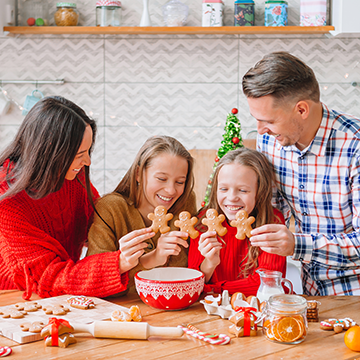 On a regular basis, trying to find a meal that your picky eater will enjoy is difficult, and holiday meals are no different. Some staple items on the table might not be appetizing for everyone and finding something that will be eaten can be tricky, but not this holiday season! Here are three meal ideas for picky eaters:
Cheese and Cracker Tray
At most holiday gatherings, food trays are already present. They are a classic, simple dish. With no extravagant ingredients, this is a safe option for picky eaters. Not to mention they are completely customizable so you can assure everything on the tray will be enjoyed. For younger picky eaters, simple crackers such as Goldfish and Ritz can be added or substituted for the fancier crackers.
Sandwiches
If your picky eater likes any kind of sandwiches including peanut butter and jelly, then bring them to the feast! You can go traditional and bring finger sandwiches made from an assortment of deli meats, or go classic with peanut butter and jelly sandwiches. Simple, yet delicious for everyone. For the pickiest of eaters, you can make a sandwich bar with ingredients laid out separately for everyone to make their own sandwich.
Chicken Nuggets
Everyone loves chicken nuggets, especially picky eaters. Whether it is the crunch or the bite size pieces, nuggets are a fan favorite. This Christmas, you could make homemade chicken nuggets that are equally as delicious as the classic fast food item. A tip is to pound the meat thin and then bake or fry small pieces.
One thing to keep in mind is no matter what the dish may be, there is nothing wrong with preparing or bringing a different selection of food for your picky eater. The main goal is for them to enjoy their meal to the fullest.
At The Kangaroo Forest, we offer daycare and after school care for children ages 6 months to 12 years. Our teachers strive to support your child and accommodate their needs as they grow. Interested in learning more about our programs? Schedule a tour of our facilities today!