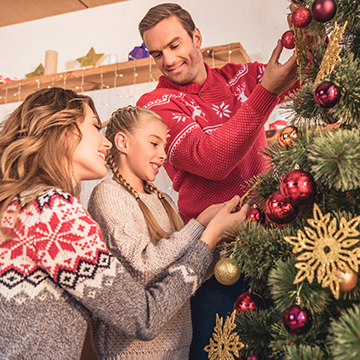 The holiday season is perfect for spending quality time with family. The Kangaroo Forest has compiled a list of holiday traditions your children will remember for years to come:
Take the kids to see Christmas lights
Want to leave the house but you're concerned about social distancing? Taking the kids to see Christmas lights is a great option! Find a neighborhood with lots of Christmas lights and decorations and take a drive. Some neighborhoods have a new theme each year and even host light shows. Don't forget to grab a few cups of hot chocolate for the ride!
Start an advent calendar
The advent calendar is a beloved tradition that dates back centuries. An advent calendar allows you to open one small gift a day leading up to Christmas. From toys and knick knacks to candy and more, there is an advent calendar for everyone. Purchase a calendar for each member of the family and have everyone open their daily gifts together!
Bake homemade Christmas treats
The holidays are nothing without some sweet treats! Find a dessert or candy recipe your kids will love and make the recipe each holiday season. Not only will your children love eating the dessert, but they will also love helping prepare it!
Read "The Night Before Christmas" on Christmas Eve
Reading "The Night Before Christmas'' on Christmas Eve really sets the tone for Christmas morning! This story details Santa's journey to deliver presents on Christmas Eve. "The Night Before Christmas" is sure to get the kids excited to see what Santa has brought them!
At The Kangaroo Forest, we believe family bonding supports a child's development and improved academic performance. One of the best times to bond as a family would be during the holidays! So gather round and celebrate.
Will 2021 be the year you enroll your child in daycare? For more information about programs, click here.