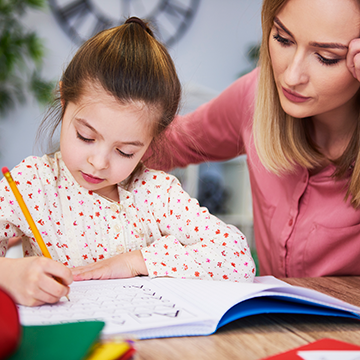 The habits your child develops at a young age will impact their future. Therefore, it is important to develop good habits early on - this includes good study habits! Good study habits have the power to set your child up for academic success. Here are a few habits that will enable your child to succeed:
Homework comes first
After a long day at daycare or school, a child just wants to come home and play or watch television. However, once they've entered relaxation mode, it can be difficult to convince them to be productive. Therefore, you should encourage your child to complete their homework before they unwind and have fun. By prioritizing homework and completing assignments right after school, your child is caught up on their schoolwork and ready to take on the rest of the week. Additionally, homework followed by fun activities provides your child with an incentive to complete their work.
Designate a study room or area
From phones and tablets to toys and video games, your home is likely full of distractions. In order for your child to complete assignments and retain information, homework time should be distraction-free! Therefore, you should designate a study room or area within your home. This space should be quiet and free of anything that may shift your child's focus away from their studies. A distraction-free space will not only ensure your child completes their homework, but does so in a timely manner.
Get organized
With as many subjects as your child is studying, it can be easy to overlook assignments and due dates. Therefore, it is crucial that you help your child get organized. Creating to-do lists or utilizing a planner can provide an overview of what needs to be completed. This will help your child remain up-to-date on their schoolwork.
At The Kangaroo Forest, instilling in our students a passion for lifelong learning is at the core of everything we do. We offer educationally enriched programs and activities that will lay the foundation of your child's academic future. For more information, contact us directly!