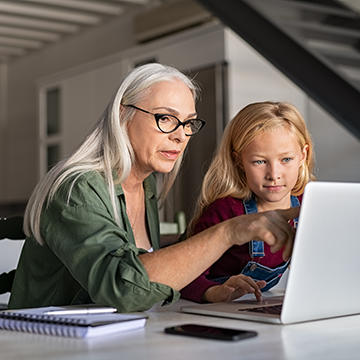 It can be a huge adjustment to transition from traditional in-person instruction to virtual learning! Is your child having trouble focusing and completing their work from home? Here are 3 ways to keep your child motivated while learning remotely:
Create a schedule or planner
A lack of structure and organization will leave your child feeling overwhelmed and unmotivated. Therefore, we recommend sitting down with your child and creating a list of assignments and due dates for easy reference. With a schedule, your child won't miss a deadline - and there's nothing more satisfying than checking an assignment off the to-do list!
Positive reinforcement
Praising your child for the good work they have done is one of the easiest ways to keep them motivated while learning remotely this school year. Teachers often give students stickers or check marks when they score well on an assignment or test. When children receive positive reinforcement for their efforts, they continue to do praise-worthy work. Therefore, we recommend creating a reward system for your child (ex. giving your child a piece of candy when they submit their assignments on time).
Designate time for fun and play
School isn't just about academics! One of the most important aspects of a child's education is socialization. Therefore, it is important to make time for fun! Plan Zoom playdates for your child and their friends to give them a break from their school work. You may also want to consider designating time for "recess" by taking your child to the local park or allowing them to run free in the backyard.
Is teaching your child proving to be more difficult than you anticipated? Need to return to work? If you require daytime care or assistance with teaching your child, The Kangaroo Forest has the perfect solution! This school year, we are offering childcare services for remote students in a small group setting. Interested in learning more? Contact us today!