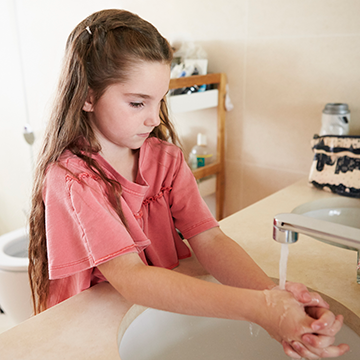 The flu runs rampant every fall and winter — and it is likely your child could be exposed if they are in school or daycare. Here are 3 ways to keep your kids healthy this flu season:
Hand washing
Kids touch everything! When you take them to the store, they can hardly keep their hands off things. When they're at school, they share toys and space with lots of other children. They're exposed to germs everywhere! Therefore, it's important that they wash their hands as often as possible this flu season.
Encourage your child to use warm water and soap to cleanse their hands. It's best to cleanse for about 15-20 seconds. Make it fun and ensure they are effectively cleansing by asking them to wash their hands for the duration of the alphabet song.
Balanced meals
This flu season, it's important your child gets as many vitamins and nutrients as possible. When preparing meals for your child, incorporate as many fruits and vegetables as you can. Foods containing Vitamin C and D will help boost their immune system and support their body in fighting off illness.
Sleep
Sleep is crucial for maintaining a healthy immune system. Children 12 and under require anywhere from 9-14 hours of sleep a day. To ensure your child is getting plenty of sleep this flu season, develop a nighttime routine. When it comes to play time, dinner, and bath time, follow a strict schedule, so your child is ready for bed by the same time every night.
Looking for childcare this school year? The Kangaroo Forest provides a quality educational environment for children ages 6 weeks to 12 years, including Private Kindergarten and before and after school care. With flu season in full swing, our staff prioritizes providing a safe, sanitary environment for our students to learn and thrive in. Learn more abou
t
our programs
and
schedule a tour of our facilities
today!