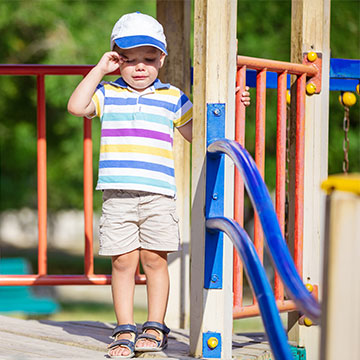 Separation anxiety is common among children when they start daycare. For the first time in their lives, children spend an extended period of the day away from the people they are most familiar with. As your child begins this transition, there are many things you can do to ease their anxiety at daycare.
Meet the Teacher
Before dropping your child off on the first day, schedule a tour and introduce them to their teacher. Meeting their new caregiver in advance allows them to begin building trust. When you child sees a friendly face on their first day, they will likely transition easier.
Discuss Changes
One of the best things you can do for your child is to learn how to communicate with them. Prior to beginning daycare, discuss the upcoming changes multiple times. Be sure to express enthusiasm about daycare by reminding them about new friends, games and activities. This is also the perfect time to ask your child how they feel about daycare and help them understand their emotions.
Stick to a Pick-up and Drop-off Routine
Routines helps limit anxiety at daycare. For example, never try to sneak out when you drop your child off. Always make sure your child knows you are leaving by giving them a hug, telling them goodbye and reminding them when you will pick them up. Similarly, make sure you always pick your child up at the same time and alert them if you will be picking them up later on special occasions.
Choose the Right Daycare Provider
Make sure you choose a daycare provider who puts the wellbeing of your child first. Your child's teacher should be able to calm them down and encourage their excitement for daycare. They should also regularly update you of your child's progress and give tips that help limit separation anxiety at daycare.
The Kangaroo Forest provides a caring and nurturing environment for children located in The Woodlands, Texas. Our goal is to help your child transition into daycare and prepare them for higher education. Read our article about
how to prepare your child for daycare
for additional tips.