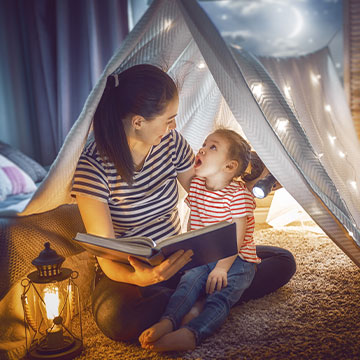 Growing up, kids often feel pressured to read books by adults. When children feel forced to do something, they tend to avoid it entirely. As parents, you can encourage your child to foster a love for books and make reading fun without making it seem like a chore.
Audiobooks
Listening to audiobooks can help a child with confidence. When children listen to books, they build fluency skills. Using audiobooks to teach fluency— the ability to read text accurately, quickly and with good expression— helps your child enjoy books while allowing them to learn to read at their own pace.
Bring Books to Life
Bringing a book to life means you're making it relatable to your child. This can be done in many ways. For example, if your child loves Where the Wild Things Are, rent the movie and watch it together. You can also do activities related to the book you are reading with your child. The Montgomery County Memorial Library System hosts various crafts and storytimes throughout the week to encourage reading. Check out their calendar for a list of upcoming activities.
Create a Reading Nook
Consider creating a book nook somewhere in your home. By making a quiet and cozy space where your child can retreat with a book, reading time becomes more appealing. For added excitement, work with your child to give the nook a theme they can enjoy, like a pirate's cove or spaceship.
But Keep Books Everywhere
Books may look great high on a shelf, but your child can't reach them. To encourage reading, place books at your child's eye level. Keep books in your living room, your car and any other place your child may spend time in.
Be a Reading Role Model
Kids tend to mimic the attitudes and actions of those they admire. If your child sees a book in your hand, they are more likely to pick one up too. Be sure to tell them about what you are reading and point out things that remind you of the story.
A love for books start at a young age. At the Kangaroo Forest, our students enjoy daily storytime and learn skills to make them a better reader.
Contact us
to learn more about our activities and enrollment.