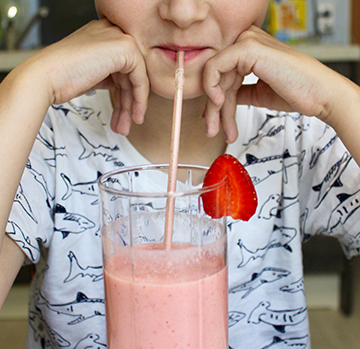 This Texas heat is killer. What better way to cool off than with a milkshake? If vanilla isn't your taste, no worries — you can customize your milkshake to your preferences. Here are 3 milkshake recipes your kids will love:
Oreo Milkshake
Who doesn't love Oreos? For the cookie lovers in your home, an Oreo milkshake is a great option. In a blender, combine vanilla ice cream, vanilla extract (to enhance the vanilla flavor), milk, and as many Oreos as you'd like. You can either blend until you have achieved a smooth consistency, or pulse if you want cookie chunks. Garnish with an Oreo and some chocolate syrup!
View the full recipe here.
Mint Chocolate Chip Milkshake
There is something so refreshing about mint, making mint chocolate chip the ultimate flavor of summer. A mint chocolate chip milkshake is so easy to make — just two ingredients! In a blender, combine mint chocolate chip ice cream and milk. Blend until smooth. Top it off with some whip cream, a few extra chocolate chips, and chocolate syrup for the perfect milkshake!
View the full recipe here.
Peanut Butter Milkshake
Looking for a dairy-free "milkshake" option? Skip the tummy ache with this four-ingredient peanut butter milkshake recipe. In a blender, combine chopped bananas, coconut milk, cinnamon, and peanut butter. Blend until smooth and top it off with a few chocolate chips and peanut butter drizzle!
View the full recipe here.
Looking for childcare for the upcoming school year? The Kangaroo Forest provides a quality educational environment for children ages 6 weeks to 12 years, including Private Kindergarten and before and after school care. Learn more about our programs and schedule a tour of our facilities today!