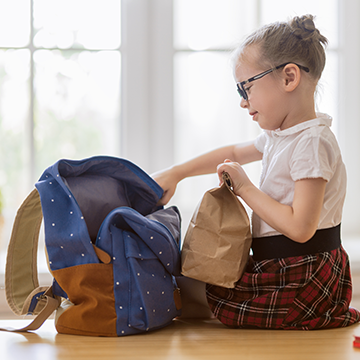 Moving to a new school can be uncomfortable and scary for a child. With this transition, they are leaving behind what feels familiar and safe to them: their friends and teachers. Make this transition easier on your child with these helpful tips:
Discuss the move in advance
If your family is relocating and your child will be required to move schools, it is important you discuss this change as a family. Depending on your child's age, this news could trigger an emotional response. Therefore, it is important that your child is given plenty of time to process and cope with the changes to come. As your family prepares to move, be transparent and explain each step of the process so your child has clear expectations.
Tour their new school and meet with their teachers
For a child, the most intimidating part of moving schools is the uncertainty. Uncertainty stems from the unknown: "Will anyone like me? Will I make new friends? Will I like my teachers?" Therefore, it is important your child has a chance to acclimate to their new environment before diving in headfirst! Schedule a tour of the school and allow your child to meet their teachers in advance - this will provide your child with some relief from those first-day-of-school jitters.
Encourage your child to join a club
One way for your child to make new friends is by getting involved in extracurricular activities! From band or choir to theatre or sports, the options are endless. Not only will extracurricular activities allow your child to meet new people with shared interests, but will also serve as an outlet to express themselves.
Prioritize quality time at home
Change is difficult for many adults to cope with. Therefore, a child lacking emotional maturity is likely having a hard time adjusting to their new normal. Before and after school, make an effort to spend more quality time with your child. Feeling a sense of normalcy at home will provide them comfort. Additionally, it is important to check in with your child regularly - ask how school is going, how they're feeling during this transition, if there is anything you can do to make the process easier, etc. Establishing an open line of communication with your child will allow them to express how they're feeling and may provide some relief. Don't forget to schedule weekend playdates for your child and their old friends!
Are you new to The Woodlands, Spring, or Tomball? Looking for daytime or after school care for your child? The childcare professionals at The Kangaroo Forest seek to create positive learning opportunities for our students in a caring and nurturing atmosphere. Interested in learning more about our programs? Tour our facilities today!