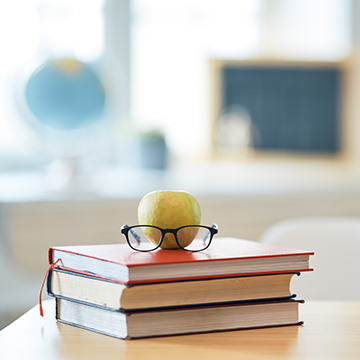 School starts in just one week. Have you shopped your child's school supplies list? Don't delay — gather up those last-minute items. Here are 5 must-have items to add to your list:
Pencils and pens
This might be a no-brainer, but extra pencils and pens are a must. Throughout the year, your child will likely misplace their pencils and need backups — and they can't rely on their teachers or classmates to borrow one. So, buy a nice pencil bag and stock up!
Pencil sharpener or extra lead
Most classrooms have a pencil sharpener, but your child may not always have the opportunity to get up during class to sharpen their pencils. Therefore, it's important they have one handy. If your child prefers mechanical pencils, make sure you buy some extra lead for their pencil bag.
Binders and dividers
While binders and dividers are not necessary items, they will help your child stay organized all year long. Instead of shoving all their worksheets and notes into one folder, they can organize each subject or class using dividers. An organized binder will allow your child to find what they're looking for easily and keep track of all their assignments.
Notebooks and additional paper
Your child will be taking lots of notes throughout the school year, so notebooks and extra paper are a must! Purchase a notebook for each subject — or reduce clutter in your child's backpack by purchasing a multi-subject notebook. Some assignments will require loose paper, so make sure to purchase a few reams of loose notebook paper.
A planner
With so many classes to keep up with, it can be easy to overlook assignments. A planner is a great way for your child to organize assignments by due dates, so they can manage their time and earn those easy A's.
Looking for childcare this upcoming school year? The Kangaroo Forest provides a quality educational environment for children ages 6 weeks to 12 years, including Private Kindergarten and before and after school care. Learn more about
our programs
and
schedule a tour of our facilities
today!