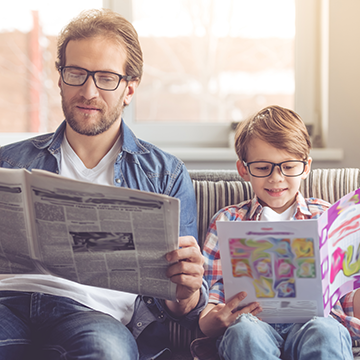 2021 is right around the corner, which means it's time to plan your New Year's resolutions. Visualization is key to achieving your goals! Help your child get clear on their goals for 2021 with this fun vision board activity:
What Are Vision Boards?
Vision boards serve as a visual representation of your goals. A vision board is a collage of images and words that represent all that you wish to accomplish — this serves as a reminder of what you're working towards, as you take action to achieve your goals.
Visualization
The first step in creating a vision board is to identify your goals. Begin by asking your child what they would like to accomplish in 2021. Guide them in setting goals for the following areas: school, home life, friends, etc.
Materials
Now that your child has set a few goals, they can create a vision board to represent these goals. Here's what they will need for this activity:
Instructions
Gather a few old magazines or newspapers you have around the house. Flip through the magazines with your child and cut out any images or text that coordinate with your child's goals. For instance, if your child wants to read more books in 2021, they may cut out an image of someone reading a book.

Once you and your child have cut out the images and text for the vision board, you may begin placing the items on the poster board. Before taping or glueing, we recommend arranging the items on the board until your child is satisfied with the placement of each item.

Begin taping or glueing the images and text on to the poster board.

Once each item has been placed and taped, you may begin decorating the board using whatever materials you prefer (markers, decorative letters, etc).
Will 2021 be the year you enroll your child in daycare? The Kangaroo Forest provides a quality educational environment for children ages 6 weeks to 12 years, including Private Kindergarten and before and after school care. Interested in learning more about our programs? Contact us today!
Happy New Year from The Kangaroo Forest! We are wishing our students and their families a year of joy, good health, and prosperity.