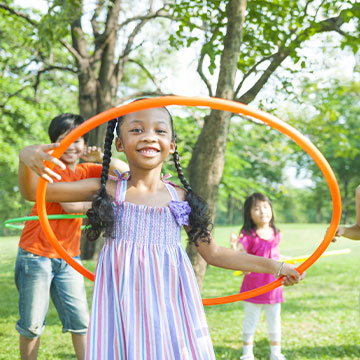 Children are always on the move, so it's likely that social distancing has them feeling cooped up. Introducing quarantine-friendly outdoor activities will allow your child to get out of the house while taking the necessary precautions to keep everyone safe and healthy. The Kangaroo Forest has compiled a list of quarantine-friendly activities your child is sure to love:
Go on a bike ride
Dust off your helmets and air up those tires - going on a bike ride is a great way to ensure your child is entertained and staying active while practicing social distancing! However, if you live in a neighborhood, you will likely have to share the sidewalk with neighbors and other residents. The CDC recommends maintaining six feet of distance in an effort to control the spread of the coronavirus. Therefore, avoid riding in close proximity to others or simply take a route with fewer people.
Have a backyard scavenger hunt
Backyard activities are great, as they allow the kids to get out of the house while still remaining contained - and who doesn't love a good scavenger hunt? Give your children a list of items or clues to guide their search. They can work together or you could make it a competition. As interactive as scavenger hunts are, you won't have any issues putting the kids to bed!
Make slime
Slime is the new Play-Doh! Making slime will allow your children to express their creativity and get a little messy. There are millions of slime recipes online for your reference. Set up a slime bar on your patio with snacks and make an afternoon out of it! Your child will be begging to make more slime long after COVID-19.
At The Kangaroo Forest, we want our students to have fun and stay safe while practicing social distancing. For more ideas on how to keep your children entertained during quarantine, contact us directly!