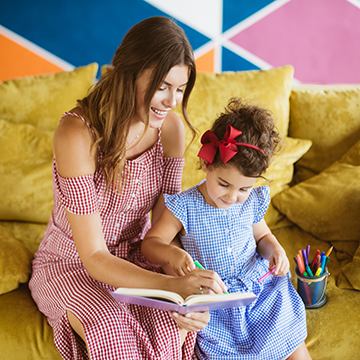 "Mom/Dad Guilt" is a common experience for new and seasoned parents. Those experiencing "Mom/Dad Guilt" either feel they are not doing enough as a parent or not making the right decisions for their children. However, parenting doesn't come with an instruction manual; therefore, it is important that parents learn to have compassion for themselves. Here's how to overcome mom/dad guilt:
Identify the root
Generally, mom/dad guilt stems from somewhere. In order to find relief, you must identify the root! What triggered these feelings of guilt and inadequacy? In what areas are you feeling inadequate? Maybe these feelings stemmed from a parenting choice you made around your child's diet, education, social life, etc. Maybe you feel as though you work too much and don't spend enough time with your children. Once you have identified the root of your guilt, you can begin reframing your beliefs.
Know your values
In order to reframe your beliefs around parenting, you must identify your values. What do you want for your children and family? What is important to you? Most parents want to know that their children are well-nurtured — physically, emotionally, and mentally. Most parents want to raise children who are kind, compassionate, and caring. If you are prioritizing your values and your children are fed, clothed, loved, and happy, you're doing a great job. If you are remaining true to your values, there's no reason to stress over the small stuff.
Trust your intuition
From the moment our children are born, we are attuned to their needs. No one knows your child the way you do! So why are you questioning your abilities as a parent? Trust your intuition! No online parenting blog will serve your family better than your own natural instincts will.
Stop comparing yourself to others
The saying goes: "Comparison is the thief of joy." And it's true! Mom/dad guilt often stems from comparing ourselves to other parents. With social media being one big highlight reel, you may feel as though you're failing your children simply because your parenting choices differ from those of your seemingly happy and thriving friends and neighbors. But how do you benefit from comparing yourself to others? Every child is different and every family is different. Therefore, your parenting choices should be unique to your family's needs.
Looking for childcare in The Woodlands, Texas? TKF provides a quality educational environment for children ages 6 weeks to 12 years, including Private Kindergarten and before and after school care. Contact us today!