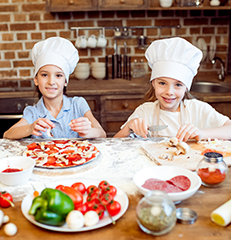 It's National Pizza Day! Celebrate with these 3 pizza-inspired recipes your kids will love:
Pizza Sliders
If you're looking to switch things up, sliders are the perfect bite-sized snack — your kids are guaranteed to love this one! Pizza sliders are so quick and easy to make. Here's what you'll need:
Begin by removing your Hawaiian rolls from their packaging, but don't separate them! Take a knife and cut horizontally through the middle of the loaf until you have two halves (top and bottom). Place the bottom half of the loaf in a non-stick glass pan. Add a generous layer of tomato sauce and top with as much mozzarella cheese as you'd like. Add a layer of pepperoni slices and top with more mozzarella cheese. Now, place the top half of the bread loaf over your layers. Melt your butter in the microwave and pour/brush the melted butter over the top of your sandwiches. Sprinkle a little Italian seasoning over the top of the rolls and bake for 20 minutes (or until everything has melted).
Pizza Rolls
Like sliders, homemade pizza rolls are another great bite-sized treat — and are much tastier than Totinos! Here's what you'll need:
Refrigerated pizza crust tubes

Shredded mozzarella cheese

Grated parmesan cheese

Pepperoni slices

Marinara sauce

Italian seasoning

Garlic salt
Begin by preparing your pizza crust. Flour your countertop and roll out the dough. Add a thin layer of marinara sauce and sprinkle a little Italian seasoning and garlic salt over the crust. Add a thin layer of each cheese and top with pepperoni. Now, roll the dough until it forms a log. Pinch and seal the edge of the dough to secure its contents. Using a pizza cutter, cut your log into individual rolls. Bake for 10 minutes or until golden brown.
Pizza Dip
This recipe takes the classic cheese dip to the next level. This pizza dip is the perfect appetizer for family game night! Here's what you'll need:
Italian sausage (no casings)

Pizza sauce or marinara

Shredded mozzarella cheese

Pepperoni slices

Canned biscuits

Olive oil

Garlic salt

Grated parmesan cheese

Italian seasoning

Fresh cut parsley
Begin by browning your Italian sausage in a cast iron skillet. In a bowl, combine your biscuits, olive oil, garlic salt, Italian seasoning, and parmesan cheese. Toss biscuits until all are well-coated. Drain your skillet until there is no excess grease, then add pizza sauce to the sausage and stir. Cover the sauce mixture in a layer of mozzarella cheese. Add pepperoni slices along the perimeter of the pan. Place biscuits in a ring over the pepperoni slices. Add a thin layer of parmesan cheese over the biscuits. Cover with foil and bake for 10-12 minutes. The biscuits should be golden brown and the mozzarella should be melted and bubbly.
Searching for daycare or after school care? The Kangaroo Forest offers both for ages 6 months to 12 years. We strive to create a positive learning environment that will support your child's development. Interested in learning more? Contact us today!