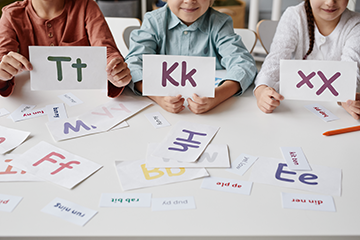 Before entering kindergarten, a child must know the basics: their name, the alphabet, colors, and shapes. Help your child get ahead with these popular learning aids:
Flashcards
Flashcards are one of the more traditional learning aids, and are still popular to this day. Because of the word-image association, flashcards are great for teaching children letters, numbers, and colors and strengthening memory.
With lots of practice, your child will be able to recognize and name letters, numbers, and colors with ease — before they've even entered preschool or kindergarten.
Teach your child letters, numbers, colors, and animals with these flashcards!
Workbooks
You can find workbooks for children that cover a range of subjects, from math and science to reading and writing. Workbooks are a great way for children to apply what they've learned and perfect their skills.
Now that your child can recognize and name letters, they can learn to trace and write them using workbooks. Now that your child can count and recognize numbers, they can learn to write them and perform basic addition and subtraction. Many workbooks also include activities, like matching games, that allow children to categorize items.
Help your child perfect their skills with these best-selling workbooks for writing and math!
Puzzles
Puzzles are a great way to test a child's knowledge of shapes and colors. Puzzles require children to think critically and match each puzzle piece to its coordinating space. Like matching games, puzzles teach children how to categorize items based on their similarities and differences.
Put your child's knowledge of shapes and colors to the test with these awesome puzzles!
Searching for daycare or after school care? The Kangaroo Forest offers both for ages 6 months to 12 years. We strive to create a positive learning environment that will support your child's development. Interested in learning more?
Contact us
today!