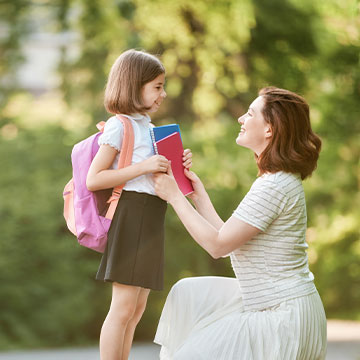 After making the decision to enroll your child in daycare, it's time to prepare. Leading up the first day and coming weeks, there are ways to help your child transition easily to their new environment. Help your child prepare for daycare by following these tips.
Try it Out
Parents can help their children prepare for daycare by introducing the environment slowly. For younger children, research suggests a child transitions better in a half-day program. Children go to daycare in the morning and leave after lunch to spend the remainder of the day with someone they routinely spend time with. For older children, have them attend daycare a few days a week. This gives them the ability to learn the processes of daycare and transition gradually.
Make it Positive
While the transition to daycare can leave parents feeling anxious and emotional, it is crucial to make sure a child does not pick up on those emotions. As a parent, show your excitement about this new step. Children will often try to mimic the actions of their parents and will be more excited about the new change.
Don't Linger
From the beginning, it is important to establish a quick drop-off routine with your child. Give your child a hug and kiss, but do not make drop-off a big deal. Even if your child begins to cry and yell, he or she will transition quicker if you make your goodbyes quick.
Comfort Items
Sometimes giving your child a comfort item will make them feel safer in a new environment. Examples include a favorite stuffed animal, family photo or an item that reminds the child of you. Build trust by asking your child to take care of the item until you come back to get them. This reminds them you will pick them up later in the day. Before giving your child a comfort item, make sure it follows the daycare's rules.
Final Tips
Most children will cry during drop-off as they transition. When you pick your child up, ask their teacher how long they cried after you left. To help your child prepare for daycare, communicate with them. Ask them questions about their fears or what they may be excited about. By letting them know they can always talk to you about their fears and other emotions, you will be able to establish trust and ease the transition.
The transition to daycare can be stressful for parents and children. Before you begin preparing child for daycare, read our article to make sure your child is ready.