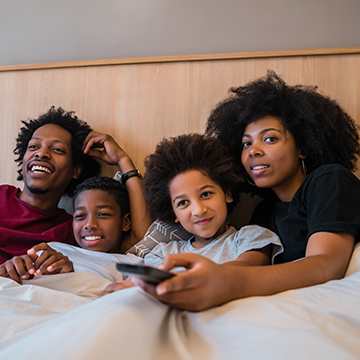 Daylight Savings Time ends on November 6. You know what that means — we "fall back" an hour! While we may be gaining an hour of sleep, the time change is still an adjustment. Prepare your children for the end of daylight savings time with these helpful tips:
Adjust their bedtime
On Sunday, we'll be setting our alarm clocks back an hour — but our "body clocks" don't work like an alarm clock. Therefore, it's likely your child will wake early as a result. By adjusting their bedtime a little each night for about a week leading up to the end of Daylight Savings Time, they're more likely to sleep until their alarm. Send them to bed 5-15 minutes later each night. By the time Sunday rolls around, they'll be ready to "fall back" an hour.
Use daylight and darkness to your advantage
Daylight exposure and darkness contribute to the regulation of our sleep cycles. With daylight, we are awake and alert. As it becomes dark outside, we begin feeling sleepy, which is often what prompts us to prepare for bed. If you plan to adjust your child's bedtime so they go to bed an hour later, the ambiance of your home has to be right. Play outside for as long as daylight allows and don't pull the curtains, soften indoor lighting, or turn off TVs until you're ready for your children to fall asleep.
Allow independent play for early risers
Even after adjusting your child's bedtime, they may still wake early. It could take days or weeks for your child's sleep cycle to regulate. If your child wakes before their alarm, don't feel pressured to rise with them. Stay in bed and allow your child to play independently within the confines of their bedroom. They may even go back to sleep!
Looking for childcare this school year? The Kangaroo Forest provides a quality educational environment for children ages 6 weeks to 12 years, including Private Kindergarten and before and after school care. Learn more abou
t
our programs
and
schedule a tour of our facilities
today!