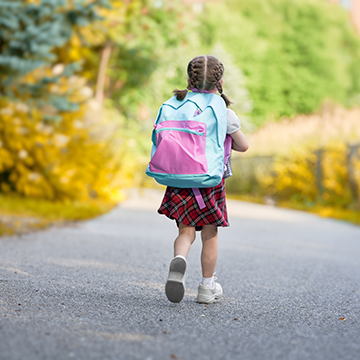 The first day of school can be stressful for students and parents alike! This stress has only been magnified now that some districts are implementing virtual learning. Is your child prepared? Follow this checklist to ensure your child is set up for success this school year:
Meet the teacher
As you prepare for another school year, a great way to put your mind at ease is by meeting your child's teacher(s). Most schools usually hold a "Meet the Teacher" night before school starts so parents and students can become familiar with new teachers and classroom settings. However, many of these events have been cancelled or postponed due to COVID-19. If this is the case for your school or district, schedule a video call with your child's teacher. Take this time to get to know the teacher, express any concerns you may have for the upcoming school year, and ask questions as needed.
Practice a morning routine
After a long summer break, getting back into the swing of things can be difficult for both children and parents. After sleeping in every morning for months, waking up bright and early and following a schedule can be a huge adjustment. Therefore, we recommend developing a morning routine in the weeks leading up to the first day of school. Have your child wake up to an alarm, get dressed, and be ready for breakfast when it's served. Practicing a structured morning routine for a couple weeks will make it much easier for you and your child once the school year begins. Even if your child is participating in virtual learning, developing a routine or schedule will keep them on track while learning from home.
Become familiar with virtual learning software and resources
It can be a huge adjustment to transition from a traditional classroom setting to virtual learning. Additionally, many parents feel they are not qualified to teach, especially using technology and software they are unfamiliar with. Therefore, we recommend taking the time to sit down with your child and navigate this technology before school starts again. You may also want to review lesson plans, due dates, and class schedules.
If you prefer distance learning for your child but require daytime care or assistance with teaching, The Kangaroo Forest has the perfect solution! This school year, we are offering childcare services for remote students in a small group setting. Interested in learning more? Contact us today!