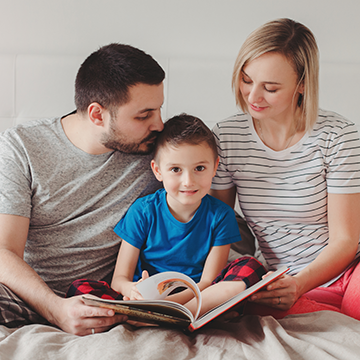 Families that read together succeed together! In honor of National Family Literacy Day on November 1, The Kangaroo Forest has compiled a list of reasons you should be reading as a family:
Bonding time
Any time spent together as a family is another opportunity to bond. Therefore, you should develop a habit of reading as a family. Designate time every day or week to read together — maybe before everyone goes to bed. Choose a genre everyone will enjoy and have someone read aloud. If you have more than one child, they could take turns reading aloud. When you designate time on a consistent basis to read with your children, they can look forward to "family time."
Strengthens reading and writing skills
The more a child reads, the more their reading and writing skills improve. Furthermore, they develop a more expansive vocabulary, as they are regularly encountering words they are not familiar with. Use this time to teach your child — correct mispronunciations and guide them in sounding out unfamiliar words.
Encourages independent reading
When a child develops a love for reading with their family, they are more likely to read on their own as well. Independent reading supports continued learning and offers a variety of other benefits. Reading is said to:
Reduce stress

Improve brain connectivity

Improve memory, focus, and concentration

Prevents cognitive decline
The more a child reads, the better!
At The Kangaroo Forest, we encourage parents to read with their children starting at a young age. This practice lays the foundation for a journey of lifelong learning. Interested in learning more about the benefits of reading? Contact us today — our childcare professionals would be happy to answer any questions you may have.