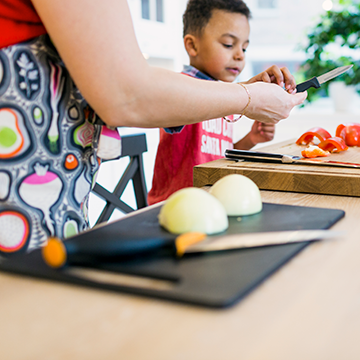 Cooking is an essential part of day-to-day life. Not only does cooking allow us to nourish our bodies, but it also teaches a variety of valuable skills. Therefore, it is important that children get an early start in the kitchen. Here are a few reasons you should cook with your children:
Teaches independence and other important life skills
In adulthood, your child will likely live alone or have a family of their own to support - knowing how to cook is a skill they will always need in order to sustain themselves! Therefore, it is important that they learn to cook at a young age. Providing opportunities for your child to become more comfortable in the kitchen is just one way you are helping to lay the foundation for their future.
Requires math and reading comprehension skills
Cooking requires a plethora of skills, such as math and reading comprehension. When cooking, you must be able to understand and execute the directions provided in a recipe. There are also several units of measurement used when cooking, which requires basic addition and subtraction to measure and combine ingredients. Therefore, an activity like cooking allows your child to put their skills to the test - and supports their overall development.
Encourages good eating habits
The more comfortable a child is in the kitchen, the more they will want to cook. The more your child cooks and is exposed to a variety of foods, the more likely they will have a diverse palette - and a diverse palette will ensure your child is receiving all the vitamins and nutrients necessary for development.
At The Kangaroo Forest, we understand the importance of a well-balanced diet. Therefore, we serve our students meals and snacks that will support their mental and physical development. For more information, view our
September menu
.