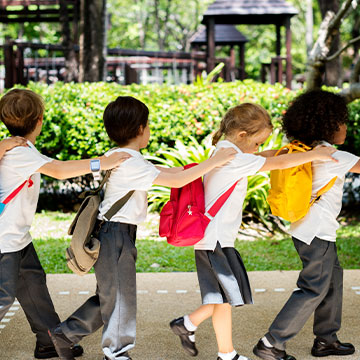 Daycare is so much more than just daytime childcare! Daycare is foundational in preparing your child for a lifelong journey of learning. Here are a few skills you can expect your child to learn while attending daycare:
Social Skills
Children experience very little socialization before they begin attending school. Daycare allows children to socialize with kids their age. This socialization teaches children how to make new friends. They also learn how to observe and appreciate others for their differences, such as race, gender, socioeconomic status, etc.
Independence
For the first five years of a child's life, they spend the majority of their time with their parents. When children start going to daycare, it is natural for them to experience separation anxiety. Attending daycare long-term allows children to become more independent. They begin to rely less on the adults in their lives and more on their own autonomy.
Sharing
Unless a child has siblings, they may have very little experience sharing with others. At daycare, they will be required to share toys, books, and other items with their classmates. Sharing can be a difficult skill to teach children, but with long-term exposure, they can master this skill!
Discipline
Children need structure — and that's exactly what daycare provides! Most daycare programs have strict schedules that outline meal times, naps, recess, and more. When children fall into a routine, they know what to expect and when to expect it. Structure teaches children discipline around their daily tasks and activities.
Cognition
With a variety of learning activities and games, daycare teaches children basic cognitive skills, such as language, colors, numbers, and more. Childcare professionals design curriculum that supports critical thinking and exploration. Students may think they're just playing a fun game, while they're actually learning foundational skills that will benefit them for years to come.
Motor Skills
Developing fine motor skills takes patience and practice! With exposure to such a diverse range of activities, children can perfect their motor skills at daycare. For most children, it is helpful to observe other children completing the same tasks.
At The Kangaroo Forest, we watch our students grow each and every day. Interested in learning more about our programs and ABeka curriculum? Contact us today!