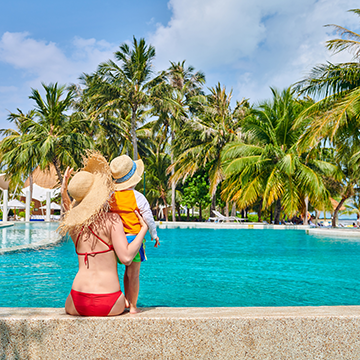 Spring Break 2022 kicks off next week! Whether you're headed to a tropical island or going on local adventures, keep the good times rolling with these Spring Break safety tips for families:
Adult supervision
Whether you're near water or operating heavy machinery, children should always be supervised during these activities. With larger crowds and engaging activities, Spring Break poses greater safety risks. Anything can happen in a moment's notice, so keep your eyes on the kiddos and remain within arm's reach.
Seatbelts
Whether you're traveling via car, train, or airplane, wear your seatbelts and follow the safety protocol set forth by your airline or transportation department. This seems like a no-brainer, but with heavier traffic on the roads, you must buckle up!
Life jackets and helmets, as needed
No matter what activities your family participates in, protective gear is a necessity. If you're taking a boat out on the lake, have everyone wear life jackets — even if they can swim. The strongest swimmers can still drown! If you're operating heavy machinery or riding bikes, don't forget your helmets.
Sunscreen, glasses, and hats
Sunburns range in severity but are uncomfortable nevertheless. Avoid sunburns and sun poisoning by gearing up this Spring Break! Stock up on high SPF sunscreen and apply generously/frequently and wear sunglasses and wide brimmed hats for added protection.
Store food appropriately
Food poisoning while on vacation is a total buzzkill! If you pack food and drinks for long days on the beach, be sure to store your food appropriately. If you pack perishable food, try storing it in a cooler to maintain appropriate temperatures.
Medication and insurance cards
Anything can happen on vacation, so it's important to pack common OTC medications like Tylenol, Advil, Benadryl, etc. There are safety risks to traveling, so be sure to bring your insurance cards and get familiar with where your local hospitals are.
The Kangaroo Forest wants to wish our students and their families a happy, healthy, safe Spring Break!
Interested in learning more about our programs?
Contact us
today!