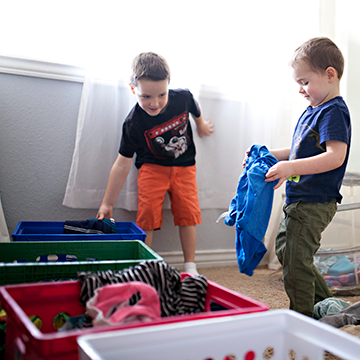 Spring is among us! It's time to clean and organize the house. However, Spring cleaning with kids isn't always easy. Here are a few fun ways to get your kids involved:
Hold a garage sale
A big part of Spring cleaning is the decluttering process! Out with the old and in with the new. However, it isn't always easy to get the kids to declutter their spaces. Instead of hauling your "gotta go" items to Goodwill, hold a family garage sale. Encourage your kids to gather up old toys and clothes they no longer use or want and contribute those items to the garage sale. Incentivize your kids to participate by telling them they can keep the earnings from the items they contribute!
Make it a game
Kids just want to have fun — and chores aren't fun! Kids are more likely to participate if work feels more like play. Turn their chores into a game! If you have more than one child, see who can clean the most dishes in the shortest amount of time. See who can gather the most expired products from the pantry.
Prize drawer
Positive reinforcement and instant gratification are two of the best ways to encourage good behavior in children. This is why a prize drawer is a great incentive to participate in Spring cleaning! Create chore lists or charts for each child; if they complete all their tasks, they get to pick something from the prize drawer. You may consider offering additional tasks (not included on their charts) that will allow them to earn "extra credit"!
Turn on music
If you want your kids to eagerly help out, you've gotta set the mood with some upbeat music. Who isn't in a great mood when they're listening to their favorite songs? Create a cleaning playlist featuring some of your kids' favorite songs and get to cleaning! A little music while sweeping could easily turn into a dance party.
Looking for childcare in The Woodlands, Texas? TKF provides a quality educational environment for children ages 6 weeks to 12 years, including Private Kindergarten and before and after school care. Contact us today!