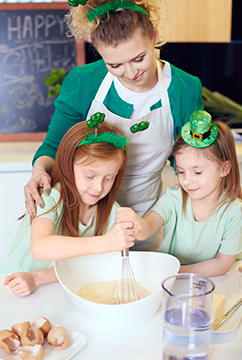 St. Patrick's Day is Thursday, March 17! Celebrate with these fun St. Patrick's Day treats your kids will love:
Mint Chocolate Chip Cookies
You can never go wrong with chocolate chip cookies! But it's St. Patrick's Day — so let's add a hint of green with mint chocolate chips. Here's what you'll need to make Mint Chocolate Chip Cookies:
Preheat your oven to 350 degrees and line a non-stick baking sheet with parchment paper. In a bowl, combine 2 ¼ cup flour, 1 teaspoon baking powder, ¾ teaspoon baking soda, and ¼ teaspoon salt. In an electric mixer, beat 1 stick of butter (room temperature) and ½ cup each of sugar and brown sugar until light and fluffy. Add 1 teaspoon vanilla extract and 1 large egg, beating until combined. Slowly add your flour mixture and beat until well-combined. Finely chop and add your mints to the mixture, folding until evenly distributed. Ball up dough, add to baking sheet, and bake for 10-12 minutes or until edges are golden brown.
Lucky Charms Muddy Buddies
You've probably heard of Muddy Buddies (or Puppy Chow) — the sweet treat consisting of cereal, peanut butter, chocolate, and powdered sugar. Well, we're swapping out the traditional Chex cereal for Lucky Charms in honor of St. Patrick's Day! Here's what you'll need for this recipe:
Lucky Charms cereal

Peanut butter

Butter

White chocolate chips

Powdered sugar

Vanilla extract
Open your box of Lucky Charms and begin by separating the marshmallows from the cereal, setting the marshmallows aside and pouring the cereal into a large bowl. In a separate medium-sized bowl, add 11 oz of white chocolate chips, 1 cup of peanut butter, and ¼ cup butter. Microwave this mixture until fully melted and stir in 1 teaspoon vanilla. Pour this mixture over the cereal and stir until evenly coated. Add the cereal mixture to a large Ziploc bag, adding 8 oz of powdered sugar, and sealing the bag before shaking. Shake until the mixture is coated in powdered sugar, adding more as you see fit. Pour the mixture back in its bowl and add the marshmallows, mixing until evenly distributed. Allow the mixture to cool before storing in the fridge.
St. Patty's Day Fudge
Fudge is a Christmas classic, but we think this rich, creamy dessert is timeless. Here's what you'll need to make St. Patty's themed fudge:
In a medium-sized pot, add 14 oz sweetened condensed milk, 3 cups white chocolate chips, and 1 ½ teaspoons vanilla extract. At medium heat, stir until melted together. Stir in a few drops of green food coloring. Line a 9x9 pan with parchment paper before pouring the fudge mixture into the pan. Allow to cool and harden in the fridge. Garnish with green sprinkles before the mixture is fully set.
These recipes can be found here:
Looking for childcare in The Woodlands, Texas? TKF provides a quality educational environment for children ages 6 weeks to 12 years, including Private Kindergarten and before and after school care. Contact us today!