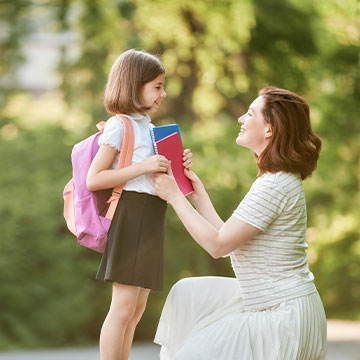 Enrolling your child in daycare carries many emotions. For most kids, this is the first time they will spend extended time away from their parents and interact with a large group of children. Preparation is key for surviving the first day of daycare. It makes it easier for your child, your child's teacher and yourself.
Visit Prior to the First Day
If your child has visited the daycare prior to the first day, drop-off will likely go more smoothly. Letting your child meet their teacher and see the types of activities they will get to do can make them excited for the first day of daycare. See if your daycare provider will let you visit multiple times at different points throughout the day so your child can understand the routine.
Discuss New Routines
Before the first day, it is important to have multiple conversations with your child about daycare. Allow them to share their emotions and remind them it is okay to be fearful of change. Explain to them where they will be going and why they will be there so they understand daycare is not a bad thing.
Change Sleep Schedules
Talk with your daycare and see when they let the children nap. If their timing does not align with your child's current schedule, begin slowly transitioning their nap time. This will make it easier for you child and their teacher on the first day of daycare.
Resist the Urge to Linger
On the first day, try not to linger. Sometimes children will act out to get their parents to stay or take them back home. Your child's teacher should step in and comfort the child, allowing you to leave. Once parents leave, most children quickly join their peers.
Get Them Excited
It is important your child feels excited about this new change. The best way to encourage this is to show your excitement as well. Remind your child about how much you enjoyed meeting their teacher and all of the toys you saw on your visit.
The transition to daycare takes patience. By making sure your child understands daycare is a safe environment for them, they will transition quickly. Before the first day of daycare, read our article on preparation for more tips.