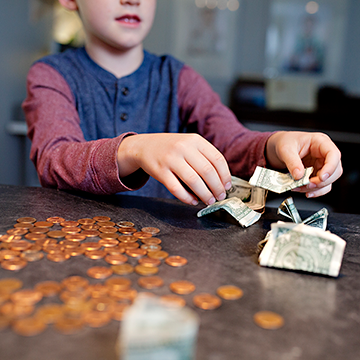 Money makes the world go round! Therefore, it is important that children understand the value of a dollar and learn how to manage money. The Kangaroo Forest has compiled a list of tips for teaching your child financial responsibility:
Talk to your child about money
The first step in teaching your child financial responsibility is to introduce the concept of money. Children crave instant gratification, so they must be taught that everything they own or wish to acquire has value and must be earned. The easiest way to explain this concept is to reference your own finances and household purchases. Start by asking your child to identify a few of their favorite toys or devices. If they like to watch television, explain the process behind acquiring a television and the streaming services they consume. Explain the concept of working for compensation and how you've used the money you've earned from working to purchase the items you want and need. You may also want to introduce the concept of saving money in order to make larger purchases in the future.
Allow your child to earn money
The easiest way to teach is through hands-on experience. Therefore, the easiest way to teach your child about money is by allowing them to earn and use it. We recommend developing a reward system that allows your child to earn money by completing household chores. A child must understand that they earn by doing; if they do not work hard and complete their designated chores, they will not be compensated.
Develop a spend/save system
A good way to help your child apply the skills they have learned is to develop a spend/save system. Create two jars or "piggy banks" for your child's money - one jar for their savings and one jar for money they wish to spend. Ask your child to reflect on their financial goals using these questions:
What are a few items I would like to spend my money on?

How much do these items cost?

How much money do I have?

Do I currently have enough money to purchase these items?

If not, how much money do I need to save before I can purchase these items?

What can I do to earn the money I need to purchase the things I want?
Once your child has become clear on their financial goals, they can begin saving and spending money as they wish.
At The Kangaroo Forest, our childcare professionals design curriculum that provides our students with the opportunity to learn basic life skills through hands-on activities and experiences. Interested in learning more? Contact us today and schedule a tour of our facilities!