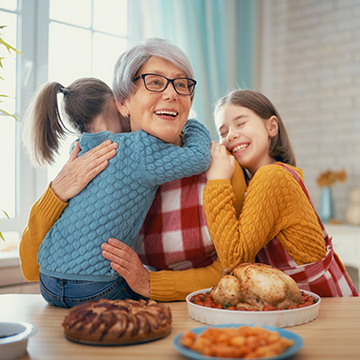 Happy Thanksgiving from The Kangaroo Forest! In honor of the holiday, here are a few Thanksgiving traditions your family will love:
The Macy's Thanksgiving Day Parade
Is it even Thanksgiving if the Macy's Thanksgiving Day Parade isn't on the television while the parents and grandparents put the final touches on some of their favorite dishes? If you aren't watching the parade before lunch, you're doing Thanksgiving all wrong!
Since 1924, Americans everywhere have tuned into the Macy's Thanksgiving Day Parade before gathering around the table for a feast. The annual parade features floats based on popular cartoon characters and there are a variety of mid-show performances. The Macy's Thanksgiving Day Parade has entertainment for all ages, so your family is sure to love this televised event!
Share What You're Grateful For
For Thanksgiving, most American families gather round the dining room table and feast on seasonal favorites like turkey, dressing, cranberry sauce, mashed potatoes, and more. Thanksgiving dinner is perfect for enjoying quality time with family! Why not share your gratitude?
Before, during, or after the meal, go around the table and take turns sharing things you are thankful for this season or year. Whether it be your job, the roof over your head, or the food on your plate, there's a lot to be thankful for this Thanksgiving!
Break the Wishbone
If your family has turkey every year, breaking the wishbone is a must-try tradition! After cutting your turkey, remove the y-shaped bone and set aside to dry. After finishing your meal, select two people to break the wishbone. Each person grabs one end of the bone and pulls until the bone breaks. Whoever breaks off the largest piece of the bone is said to have good luck in the coming year! This tradition could just be some silly superstition, but a little extra luck never hurt anyone.
From our families to yours, The Kangaroo Forest wants to wish you a Happy Thanksgiving! We are so incredibly grateful for all our wonderful students and their families. We can't wait to see all your smiling faces on Monday morning!