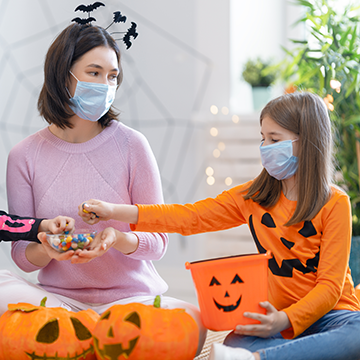 Halloween is right around the corner and the kids are ready to trick-or-treat! Halloween is a fun day for children and parents alike, but can also pose many safety risks. Keep your children safe this Halloween with our Trick-or-Treating Safety Guide:
Wear a mask
With the rise of COVID-19, Halloween looks a bit different this year. If you choose to take your child trick-or-treating this Halloween, we recommend following CDC safety protocol to control the spread of COVID. If possible, maintain six feet of distance from those around you. When going door to door, wear a CDC-approved face mask and gloves.
Be aware of your surroundings
Residential neighborhoods are high-traffic areas. When trick-or-treating in residential areas, it is important to be aware of your surroundings. When crossing the street with your children, use crosswalks and look both ways before crossing - it will likely be dark when you are trick-or-treating, which may make it difficult for drivers to see you. Be alert and avoid looking at your phone.
Wear costumes with bright colors or reflective material
The most common time to trick-or-treat is 5:30 - 9:00 PM. As the sun goes down, it is important that you find ways to remain visible to others. Therefore, when shopping for Halloween costumes, look for costumes that are bright in color or are made of reflective materials. This safety precaution will ensure you are visible to those driving through residential areas.
Inspect your child's candy
Even on a day like Halloween, you can't be too trusting of strangers. In recent years, many have expressed concerns about poisoned candy. Therefore, it is important that your child waits to eat any candy until you have all arrived home. Before allowing your child to dive in, inspect their candy bucket. Discard any items that appear to be questionable or unsealed. Does your child have any food allergies, such as nuts? Remove any allergy threats, like Snickers.
At The Kangaroo Forest, the health and safety of our students is our top priority! We wish to see all of our students again bright and early Monday morning - therefore, we encourage parents and students to practice safe trick-or-treating. For more Halloween safety tips, contact us today.